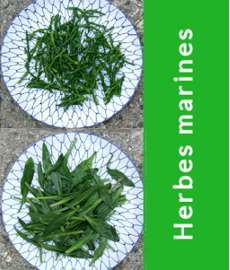 Marine herbs are halophilic plants, which grow in the salt meadows of the Bay of Somme.
They are rich in iodine, phosphorus, calcium or vitamins A, C and D. Excellent for health!

The plants are hand picked by the fishermen from the end of May to the end of August.
There are various marine plants: SALICORNE, ASTER, SOUDE MARITIME, OBIONE.
Salicorne is mainly used as a condiment, in vinegar for example or as a pickle.
They can also be eaten raw, in salads, or cooked like green beans or spinach.

Do not hesitate to consult our product sheets in the wild and aromatic plant family.